Let's recap. By now, you should have an inventory of your content and know what data you want to gather. For larger sites, let's also assume you also know who's on your audit team. Now, it's time to run your content audit.
What is a content audit?
Content Audit
Definition
A content audit is a complete inventory and assessment of all the indexable content on your website, including lead gen landing pages, blog posts, articles, white papers, ebooks, checklists, FAQs, videos, presentations, infographics, tools and more.
The content audit process includes taking inventory of a website's content and allows you to analyze the breadth of content you have on your site. An audit provides insight into actions that should be taken to address existing content. That is, what content should be updated and strengthened, merged, deleted altogether, or left "as is."
A thorough content audit will provide you with a full understanding of your content assets, and a fresh awareness of how they fit into your digital marketing strategy. Your analysis will then help you understand which types of new content you should focus on going forward.
Benefits of a content audit
Improve content performance
A content audit helps you organize, categorize, and streamline content production to deliver 10 times the results. Each piece of content should be created to improve search engine rankings, increase conversion rates, and forge a seamless user experience while aligning with your business goals.
Ensure accuracy and quality
Although it should go without saying, all your content should be thoroughly researched for accuracy and should be held to a high-quality standard. During a content audit, this means ensuring your existing content is still accurate and aligned with search intent.
As Google evolves and places more emphasis on high-quality content, older content will feel thin by today's standards. Five years ago, an 800-word article may have been sufficient to rank. Now, more comprehensive, expertly-written content is critical for success.
Identify competitive gaps
A content audit does more than spotlight holes in the buying journey. It also reveals crucial competitive gaps in your content marketing strategy where your online rivals hold more organic search market share.
For example, if your competitor is an insurance company, they may include a glossary of insurance terminology at the end of every blog post. If that competitor is consistently outranking you for target keywords, you might also want to include a glossary within your blog posts. This delivers a better user experience that further meets the needs of your audience. It also makes it more likely that other websites will link to your content.
Step 3: Collect and Analyze Data
Data collection is a complex and lengthy process. Usually, you have to recover data from multiple sources and add it manually to your spreadsheet. If you want to save time, use a content audit tool that automatically collects data according to your goals and metrics.
Connect your Google Analytics and Google Search Console accounts to add depth and breadth to your data. You'll be able to see additional metrics for each URL, including sessions, average session duration, pageviews, average time on page, bounce rate, and search queries.
To gather the performance metrics of your guest posts or any content published on third-party websites, you can use the Post Tracking tool. The tool tracks articles' keyword rankings, shares, backlinks, and referral traffic on a daily basis.
Google Analytics helps you to understand which content is performing best in terms of traffic, engagement, and conversion rates. You will also be able to estimate how effective your content has been in achieving your marketing and business goals.
Semrush Position Tracking allows you to track your rankings for target keywords. This tool can help you find content with good SEO potential (for example, web pages that ranked in the top 5 before, or pages ranking close to the top positions). By updating these pages, you can quickly reach better positions in search engines.
ContentWRX Audit. Using this tool, you can get information about your file types, metadata and page-level details that include images, documents, video, and screenshots of every page. You will also be able to sort your results, and export data for offline analysis.
Content Square helps you to analyze user behavior to understand what is and isn't working on your web page, and conduct a customer journey analysis accordingly. You can assess your page elements in terms of impact, performance, and usability to identify areas for subsequent updates.

How to Interpret Your Content Audit Data
For example, your web page can attract a lot of traffic, but have a high bounce rate and low session duration. This means that users are interested in your topic, but the content didn't offer them what they wanted. In this case, you have to assess different elements of your content to understand why users are leaving your web page. The problem can be rooted in your content's relevance to titles, CTAs, or the page load time.
You should also take into account the different stages of the buyer's journey. Your 'Awareness' content may attract more traffic, but have a lower conversion rate. Your 'Consideration' content may have less traffic, but generate more leads, and so on.
Assess Your Content Assets
The content audit might help you find the web pages that are not performing well. Try to review this content and figure out how you can make it more effective. You may also find some content with outdated information that needs to be revised.
If you are unable to improve a piece of content, or an update would take too much resource, removing it from your website may be an acceptable option. You may also have some old seasonal marketing campaigns that are no longer needed.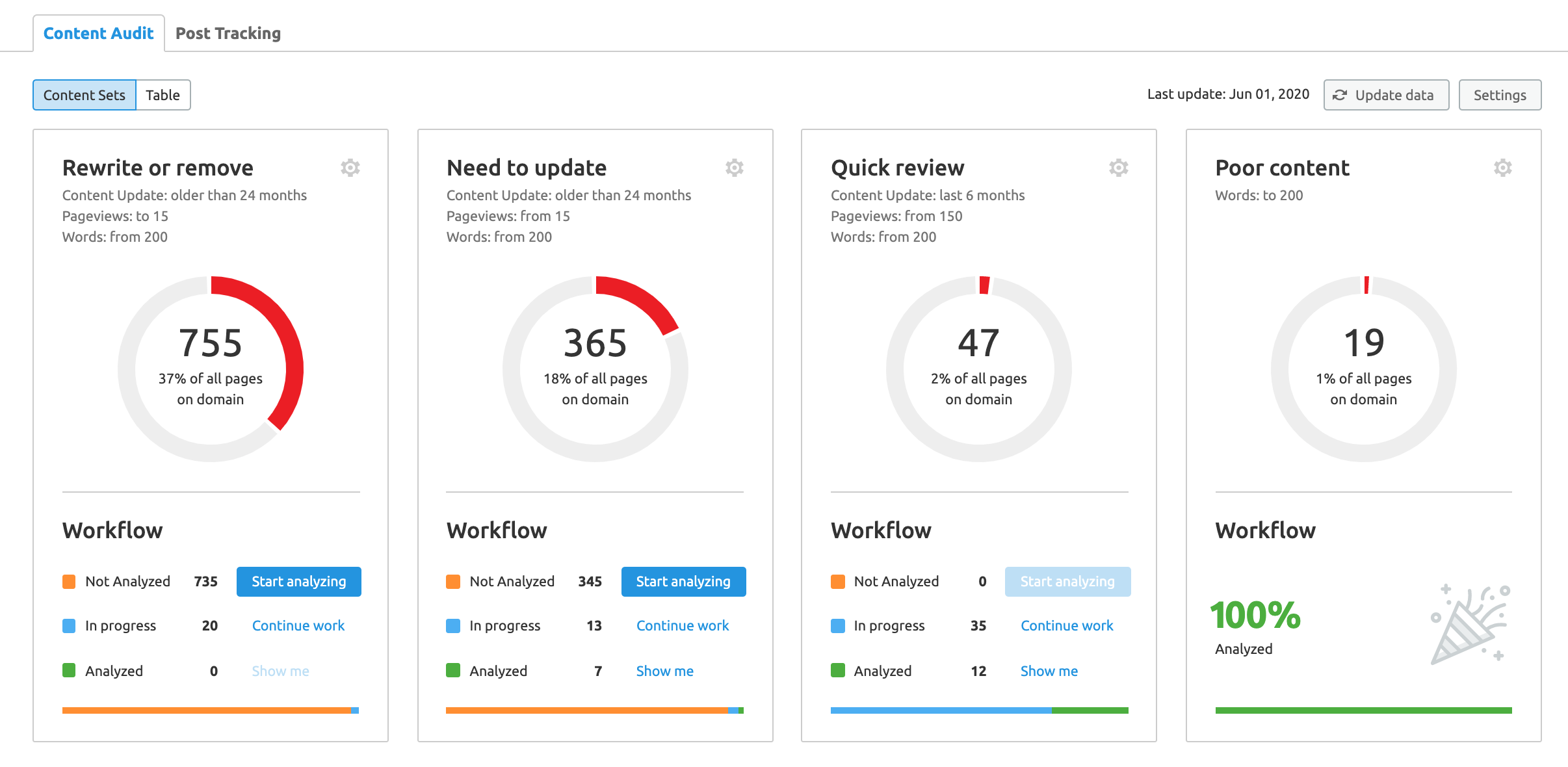 You've run your content audit. Now, take action.
Get rid of stuff
Circulate the content you've marked as ROT to the people who own it. Make it clear to them how the evidence from the audit backs up your decision. Tell them it'll be removed by a certain date if they can't tell you why it needs to stay. Make sure senior leaders will back you up.
Content improvement
For instance, you can prioritise pages that get high volumes of traffic but that scored low for usability. Or pages with high bounce rates that scored low for actionability. You've got the data now to make informed decisions.
There's a bit of work to do before you start editing content. You'll need an idea of exemplary content to model your improvements on. Your content audit can show you the good stuff as well as the bad. Use this to create your recommendations for style, structure, and tone of voice.
Allocate resources
Your audit can help show you who's doing what on your website: who's publishing, who is editing and who is making strategic decisions. It can show the content that's not being managed or maintained by anyone.
You'll need to make sure that every piece of content has an owner – someone responsible for looking after it, and that every owner is the right person for the job, not just someone who's acquired content by default.
Sources:
https://terakeet.com/blog/content-audit/
https://www.semrush.com/blog/content-audit-for-content-marketing-strategy/
https://gathercontent.com/blog/run-perfect-content-audit